Italy Trip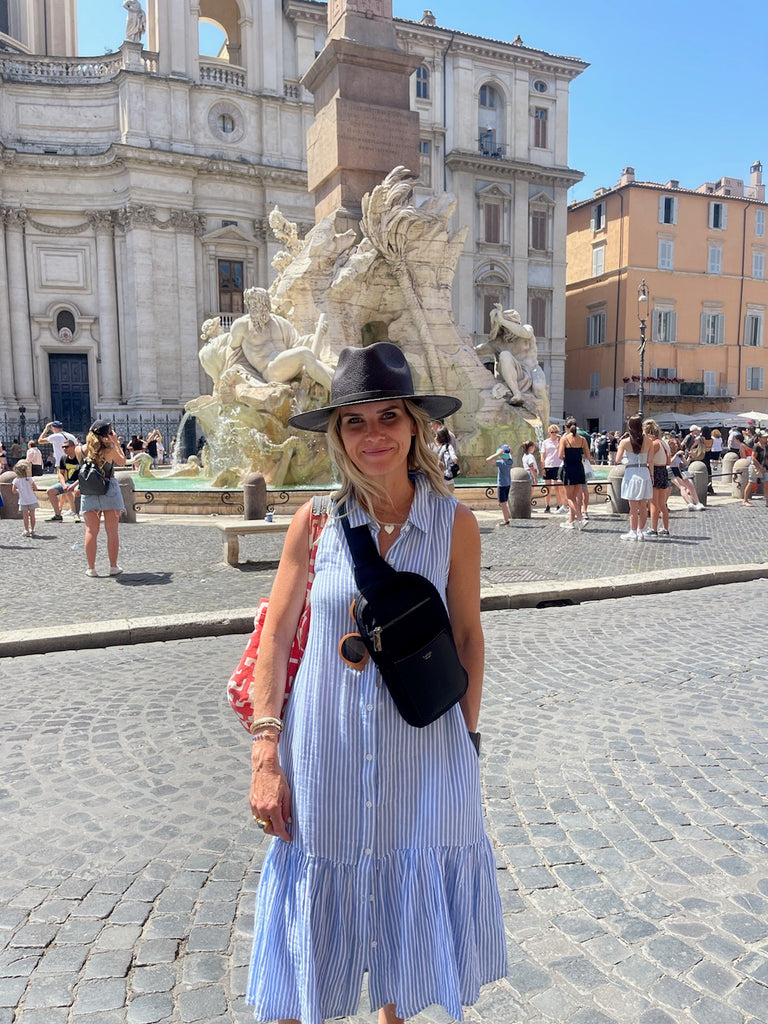 Bongiorno!
Apologies it has taken me a minute to sit down and do a quick write up on our trip to Italy.. like almost a year LOL! Apparently opening the show room and getting in a new daily groove has been taking up all of my time.. for a year.     But here we go!
I will start by saying that we did use a travel agent. He helped us book our flights with credit card points, map out our trip and decide where we wanted to go, pre-book all of our excursions and select hotels/transports to and from different destinations. I think this was detrimental to the success of our trip!  Traveling overseas with kids is already complicated (add covid restrictions etc) so having someone to help us organize everything was amazing and super helpful.  Although our kids are older (almost 17, 14 and almost 12) they still would have been impatient waiting in line for tickets etc for longer tours like the Colosseum and the Vatican. Booking these in advance helped to skip the lines and get in at an earlier time when it wasn't too hot yet..which kept everyone in a better mood for the rest of the day ;)
We started our trip by flying from Charlotte to DC and then took a 10pm flight directly into Rome and arrived at 8am in the morning. We were picked up at the airport and although our rooms were not ready we headed to our first hotel. We freshened up in the lobby and changed clothes and they locked up our suitcases so we could explore the city until our rooms were ready.
ROME -
Hotel Omnia Imperiale was modern and clean in a super safe area and we could walk pretty much anywhere. Breakfast was included each morning which was super helpful! In all 3 hotels we had a separate room from the kids and they made sure we were next door or very close on the same floor.  
We stayed in Rome for 3 nights and 4 days.  While we were there we did a lot of walking and eating LOL.  I will say..getting in at 8am was tough but after some food and some caffeine everyone was fine.  I don't believe in sleeping away vacation time and the kids adjusted pretty quickly. We just had an early night that first night so everyone could catch up. 
Here is a basic outline of our time there:
Day 1 - arrive to Rome..free day to check into hotel and explore. Dinner at Ristorante 34 was delish!
Day 2 - Vatican, Sistine Chapel & St Peter's Basilica ... guided 3 hour tour (had to wear masks but this rule was dropped 2 days after we were there).  Amazing tour and kids enjoyed it as well.  Direct quote "that was actually really interesting and I thought it was going to be super boring"..lol
We took the morning tour so had the whole day to slowly make our way back to our hotel. Our plans included stopping through the beautiful and charming town of Trestavere to make it in time for our dinner reservations at Nannarella.  (This ended up being one of our favorite meals).  Trestavere has beautiful cobblestone streets and sweet little boutiques and picturesque houses. Give yourself a few hours to meander through this beautiful place. The shops are small and unique. I picked up a beautiful ring and some perfume here!
Day 3 - Colosseum, Roman Forum and Palatine Hill... another early am guided 3 hour tour.  So mind blowing, interesting and amazing. Kids loved it and so did we.  Again we took the rest of the day to work our way back to our hotel and had lunch in Vatican City.  Swung through the Spanish Steps on the way back and had a casual dinner.
Day 4 - Free Day.. Highly recommend doing only 1 tour per day.  They are long and it's pretty hot.  Free days were key to sleep in a bit (or to let the kids sleep) and just take your time exploring and not be on a time schedule. On this morning we let the kids sleep and we got up at 7am to get a pic at the Trevi Fountain.  It's SO crowded at night its really tough to get a good photo so early morning is best!  Make sure to check the schedule as it is closed at some point for cleaning.  I believe M/W/F 8-9 but double check that!
A few restaurants we loved in Rome:
Ristorante 34, Nannarella in Trestavere and Harry's Bar.
Day 5 - Train to Naples/Pompeii/Transport to Sorrento.. This is where the trip really got good for me..lol! I loved Rome but after a few days I crave being near the water and we were all ready to relax and have a slower pace.  The train station was pretty easy to navigate and figure out and the train was SO nice and clean! Complimentary snacks and drinks and we were in Naples in no time. We were picked up in Naples and our driver took us straight to Pompeii for a guided 2 hour tour.  Honestly, you could spend all day in Pompeii.  It is mind blowing and huge and was a top 3 highlight of everyone's trip. Highly recommend!
Driver waited with our luggage to take us to Sorrento which was about a 2 hour drive.  Stunning views and very windy roads..highly recommend bringing some Zofran as a few of us were a bit car sick from the ride.  Otherwise, breathtaking drive and we were on the second leg of our trip!  We had all unscheduled days from here on so basically were just winging it and exploring.
 SORRENTO -
Days 5-8.. The most beautiful place in the ENTIRE world. Not kidding. Our hotel was amazing. I could live there. Hotel Minerva.. highly recommend!  The decor was amazing and the pool was such a nice change to cool off after sweating in Rome for 4 days. Make sure you sit and watch the pool etiquette before you swim lol. We had rooms next to each other and both had balconies with stunning views of the ocean.
The town of Sorrento is small and breathtaking.  Amazing views and very safe.. we even let the kids go off on their own and do some shopping together.  We didn't make any reservations in Sorrento and loved everywhere we stopped.. casual and beachy and fun to walk around at night with a lot of shops.  Buy a leather bag.. tons of places to choose from and prices are great!
We were dying to go to a beach club/solarium and were so lucky to be able to get into one on our first day in Sorrento.  I recommend booking these in advance if you go anytime in Summer past early June.  Since we were there in May is was not "busy season" yet so there was some availability. We also went pretty early in the morning so it wasn't full yet. Basically you pay about 20 Euros per chair and you can stay as long as you like.  You have access to restrooms, showers, swimming in with stairs down to the sea and a waiter for drinks/food and most importantly Aperol Spritz cocktails!  We will all remember this day of the trip forever.. it was amazing!  The place we ended up and loved was the solarium at Ristorante Bagni Sant'Anna in Marina Grande. Highly recommend!
For the next two days we mostly swam in the pool, explored the city and relaxed. Much needed after days of touring in Rome. Then we headed to Amalfi for the last leg of our trip!  Our driver picked us up and it was about a 2 hour drive to the town of Amalfi.  Again..bring the Zofran!
Days 9-12: AMALFI
We arrived in Amalfi and checked into our hotel. Hotel La Bussola was very pretty and right on the marina where the ferry's take daily runs to Capri and Positano.
We originally had booked a boat day with a super hunky italian guy and were going to stop in Capri for a few hours but he ended up canceling on us due to weather. That was fine as we ended up taking the high speed ferry over to Capri for the day and had an amazing time! We randomly called a few of the beach clubs to see if anyone had 5 chairs available and were lucky it was not the busy season yet because we snagged the last spots at Da Luigi Ai Faraglioni. You have to dine at the restaurant to use the beach club which was delicious (but expensive). At most of these beach clubs you pay per chair and umbrella. Not an inexpensive day but so amazing. Be prepared for a long hike back uphill. Like REALLY long..but totally worth it!
Amalfi is pretty small and we were only there for a few days (one of which we went to Capri) so we mostly puttered up and down the main road shopping and eating. We did adore a small swim club right near our hotel where you could swim for 5 euros per person and they had a deck bar above the water. It was a great unfussy place to stop for a quick dip on the way back to the hotel after walking around in the heat. It was connected to a restaurant called La Marinella right at Amalfi's seafront and it's called Marinella Beach. We found out later it's a popular locals spot to swim, have a drink and lay on the sun deck. 
Our favorite restaurants in Amalfi (and maybe for the whole trip) were Pizzeria Donna Stella (dinner underneath tons of lemon trees) and our ultimate favorite was at the top of the main shopping street. It was called Cantina Miseria E Nobilta. Amazing pizza, and they make the lemon spaghetti right at your table with fresh herbs and lemons from their garden. It was incredible.
We had an absolutely amazing time in Italy and I can't wait to go back and visit different areas. For lunches you can't go wrong stopping in just about anywhere for a sandwich or slice of pizza so I didn't keep track of rec's for that. For shopping, the pretty streets of Trestavere are a must.. those shops were smaller and more unique. I bought a beautiful ring and some perfume here. Take your time!
Packing Tips:
We went in June and it's hot! Lots of spf, water and a hat will be needed daily.
-I wore a crossbody and carried a tote bag everyday to keep extra hats, spf, kids stuff etc and to put any purchases in we bought throughout the day.
-I like to leave passports in the safe at the hotel and carried a photocopy of everyone's passport wit's me at all times.
-For shoes, I brought 1 pair of sneakers, 1 pair of cute flat slide sandals, I pair of big chunky espadrilles from Charleston Shoe Company and a cute pair of low cork wedge heel sandals. These were all I needed for a week.
As for clothes, I brought a few sundresses, denim shorts, tank tops, a few cute tops, 2 bikinis and 2 1 pieces (wore these as a top like a body suit a cpl of days), 1 pair of white jeans, 1 black linen romper, and a few pairs of nicer shorts. It's much easier to mix and match Summer clothes.. they are smaller than winter clothes so you can fit more in your suitcase!
That's all I can think of at the moment! Thanks so much for taking the time to listen to me rant about my trip. I'm not a professional blogger so hopefully you are still awake at this point! 
Ciao!
C